Sunday, June 15, 2008
Posted by

Rach
at 7:03 AM
3 comments:

So as some of you are aware, I have been known to have a pretty bad memory sometimes... but there are a few things my kids say that I will never forget...

I was in the bath the other day, and Abby happened to walk in and saw me shaving (under my arms, not anywhere else!) and she looks toward the plughole and says "mommy, where does all your fur go?".... I nearly died laughing... and quietly explained in simple terms that people dont have fur, they have hair (I swear my armpits weren't THAT hairy)...

Then in the car yesterday, Sam and Abby are watching Shrek 2 on their DVD player and Sam says "mommy, what does sexy mean?"... it's just one of those words you don't want to have to explain to a six year old...so I asked him where he had heard that word, and he said there is a song at the end of Shrek 2 called "I'm too sexy for my hat"..."hmmm, it means beautiful, but it is an adult word Sam, so please use the word beautiful when singing that song"... why oh why does Shrek have to spoil a perfectly good movie with "adult" words... So Sam sung "I'm too beautiful for my hat" (which doesn't quite have the same ring to it), all the way home, he added a few sexy's in their too, just because I told him he shouldn't use that word...and he was being rebellious... so if he ever slips that word out in front of your kids, I can only apologize now, but at least you know where it came from...lol.
Posted by

Rach
at 6:48 AM
1 comment:

Tuesday, June 10, 2008
So we went to PA last weekend (just me and the kids and my Mother in law, Mary) for a cousins grad party which turned out to be a blast... however, on the way home my brother in law, Mark was supposed to be taking Sam, Abby and I the 5 hours back to the Boro... but he had been having some car problems, losing power etc... so we head off in my MILS rental car back to the boro, but she has to go home to Fairfax as she has a heavy work week this week, so the plan was that we would travel with Mark in his car the rest of way. Anyhow, half an hour into the trip, Marks car brakes down on the side of the road, we pull up behind only to find out that now he has no power... not sure if you know PA at all but it is full of little boonie towns in the middle of nowhere, so we head off in search of our nearest redneck to ask where a Walmart or battery place might be...

It wasn't long before we found our local redneck with tattoos all the way up both arms, who directed us (in the strangest accent I have ever heard, it almost sounded Irish) to the nearest Walmart, so we jump start Marks car and off we go. All is well for about 5 miles until we start to go up a large hill with dual lanes either side and a concrete barrier in the middle, and it turns out to be right before the Walmart turn!! Typical... So instead of pulling the car off into one of the driveways beforehand, Mark decides to pull off onto the hard shoulder, and tells me to park alongside him and jump start his car again... but this hill has cars flying up it, who were barely catching the fact that I was stationary in the slower lane. Mary by this point is standing behind the car in her bright pink top, trying to direct traffic travelling going at around 60 mph around me. Abby is squeaking something in my ear, I am trying to concentrate in my mirror to make sure I don't get rear ended and all in 100 degree heat!!! I was a little agitated to say the least and mad that my kids were put in danger like that...

So after spending an hour and a half in walmart, Marks car finally has a new battery, but we are still not sure if it could be the alternator, so after driving about 10 more miles, we decide to pull off and check the battery with the tester, sure enough it was charging fine, so after much consideration and heel dragging on my part, because we are about to get in a car that does not have air conditioning and travel 3-4 hours home, we finally decide to let Mary go home and me and the kids will just tough it out, after all what did people do before cars had AC? we would be fine....right?..... hell no... it was a nightmare... it was soooo hot and we had all the windows down travelling at around 80 mph on the highway, you couldn't hear each other speak, and the kids could not watch their DVD player (you know, the thing that keeps kids quiet on long road trips), so we are getting blown to bits by this point and the heat tops over 100 degrees on the temp gage... and we can't even talk! So I sat there sulking the whole way home eating a bag of sunflower seeds and throwing the shells outta the window which Mark scolded me for as he said they would "land on someones window screen, kinda like a cigarette butt". He wanted me to spit them on the floor, but you know when you are eating sunflower seeds and the shells get all mushed in your mouth sometimes? you just don't want to spit them on the floor, so I just threw the clean shells on the floor and threw the mushed ones out of the window... hey I compramised!

So then Marks philosophy of driving is to not slow down the traffic on the outside passing lane, even if the person in front of you cuts you up, so we proceeded to sit right on peoples tails if they got in front of us, which I just had to mention was extremely dangerous to say the least... we were so close to them I could read writing in their cars... so we had a heated (literally) discussion about that too! lol... I love my brother in law, but he can sure drive me nuts sometimes... I think we bicker more than Dave and I do! it's hilarious, like we really are siblings...

Bless his heart though, he knew I was mad about getting into his car in the first place, so he was really trying to make amicable conversation the whole way home. the sorry part is though that he has now lost his voice from trying so hard, I kinda feel bad... but not much... ;-)
Posted by

Rach
at 1:06 PM
2 comments:

Thursday, June 5, 2008
You Are Ariel!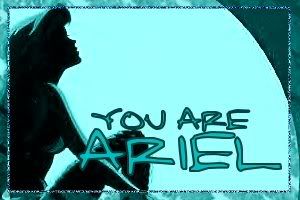 Headstrong and fiesty. You have a mind of your own that's full of romantic dreams about the world around you. Exploring exotic places is your ultimate dream, and although you can be a little naive you'll realize that there is something to be gained from your family's wisdom.
Which Disney Princess Are You?
Posted by

Rach
at 9:06 AM
No comments:

So I have started to learn and play the game of golf as my motto has always been, if you can't beat them, join them, and seeing as my husband is at the golf course sooo much, I figured him giving me a lesson every week is a great way to get to see him... Hasn't quite turned out like that as he is too busy to give me a lesson sometimes, so he sends me off with 100 golf balls to the driving range thinking that will "keep me quiet" for a while... ;-)

Anyhow, whilst hitting on the range the other day, I finally seem to have the hang of this golf swing now. My driver hits around 150 yards and I can hit my 5 iron about 125 on a good day! Not too shabby considering... but a few 20 yard skidders still slip out sometimes... so one of the board members and ex golf professionals was down on the range giving his mother a lesson with a new club. Later, he approached me and tells me "you have a very athletic swing Rachel". OK, so I immediately consider this as a compliment and thank him. But, after a lot of consideration, I am now not so sure if he really meant "you have a very wild swing rach" and that was just a nice way of putting it... I started to think "OK did he see my 20 yard misses or my 125 yard 5 iron?" I guess I will never know... and until I am CONSISTENTLY hitting over 100 yards with any iron/club, I am inclined to think he meant the latter...
Posted by

Rach
at 7:00 AM
No comments: